Safety switches are required on all power circuits and are highly recommended on lighting circuits. Having a switch installed on your main switch board is actually much more affordable than many people think. Wired by Wyatt is proud to offer outstanding safety measures for fair prices. The fact is that safety switches can and do save lives.
If your home is more than twenty years old, then there is a high probability that your switch board has ceramic wire type fuses. Whilst an upgrade to switch type circuit breakers is not a mandatory requirement, Wired by Wyatt strongly recommends doing so to ensure you and your family's safety. Incorrect switch board maintenance and neglect can lead to failures of the fuse blowing, often resulting in fires. It is critical to have a properly functioning residual current device.
Electrical Safety Audits:
Making certain that your home or business is electrically safe should be a top priority. At Wired by Wyatt, our electricians can perform a full safety audit of your home or business and provide a report with recommendations.
Take Care – Avoidable Dangers in the Home:
Use an extension lead that is appropriate for the power loading you need and be aware of the electrical loading on your residual current device to avoid setting off the safety switches.
Check that it has three prongs and is approved to Australian Standards.
Extension leads with only two prongs are not 'earthed' and are dangerous. If an appliance is faulty, a non-earthed plug can cause power to flow through the body of whoever's using it, with potentially fatal results. A residual current device is a life saver if this should happen to you.
Fully unwind extension leads before you use them so that they don't run the risk of overheating
Never use more than one double adaptor in a single power point. This is where a portable residual current device can come in handy as it allows you to evenly spread out larger amount of electrical activity.
When painting around light fittings, don't remove the light plate as this will expose live wires even when the light is switched off. Mask around it instead.
When tiling around light fittings, switches or power points, get a licensed electrician to remove the light plates and deactivate any exposed wires before you begin.
Safety switches and residual current devices need to be checked regularly to ensure that all power and lighting circuits are protected. Use the Test Button of the safety switch to check that it turns off. This will shut down the power for most dangerous situations that arise.
Portable residual current devices also commonly referred to as RCDs can be bought from most hardware stores and are recommended for protection when using power tools or any electrical device that can be unsafe.
Beware of What You Can't See – Hidden Dangers:
Contact with electricity can occur unexpectedly, often because the source is concealed. You can't always rely on a residual current device to save you. Awareness and attention to detail can save your life. Here are some tips to help you improve your awareness:
Check for wires before drilling into walls, floors and ceilings. When a metal drill comes into contact with concealed wiring, it can spell disaster for the user. Always make sure you know where wires run first. Be particularly careful when drilling around power points and light switches.
Look up and around you. When using ladders or carrying other tall objects, always look out for power lines and take care to avoid them.
Avoid contact with underground cables. Check your switchboard for a diagram or call 'Dial Before You Dig' on 1100.
When painting eaves, replacing or cleaning gutters, avoid getting close to the electrical wires that connect your home to the power poles.
When changing a blown light bulb, make sure the power is off to avoid being harmed by exposed filaments.
A residual current device can be temperamental and have been known to trip unexpectedly, but nine times out of ten they will operate perfectly and offer superior protection.
There are certain situations when it's the phone you should be reaching for, not the screwdriver. We know that Australians have a DIY nature, but certain jobs require an experienced professional. These tasks should never be attempted unless you are a qualified electrician:
Wiring any part of a home.
Installing lighting or switches.
Installing or moving power points.
Rearranging electrical wires.
Carrying out electrical maintenance.
Replacing frayed cords on appliances.
Switch board and maintenance of safety switches.
Christmas Lighting
December is a time for Christmas cheer with many homes and gardens turned into spectacular festive displays. During this time it's crucially important to remember electrical safety. Too often decorative lighting isn't installed correctly, electrical safety measures are ignored and dangerous problems arise. At Wired by Wyatt we urge everyone to be aware of common sense electrical safety measures that keep you and your family safe.
Australian Standards
When you purchase decorative lights always look for an Australian Approval number such as Q12345, V01294, or N12345. Many lights are manufactured outside of Australia where safety standards are lower. An Australian approval number guarantees reliability and high quality. Imported products may have a cheaper price tag but you shouldn't put a price on electrical safety. There's only so much protection your residual current device can provide, common sense and high quality safety measure supply the rest.
Safety Switches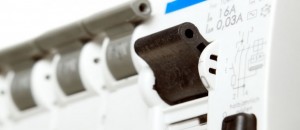 Safety switches are the best way to secure your home and family's electrical safety. In most electrical accidents safety switches sense danger instantly, cutting off the power in a fraction of a second. A residual current device and an Australian approved number on your lights is not a guarantee and isn't an alternative to proper electrical maintenance or safe practices. Safety is as much about you as the equipment, though it always helps to have the best equipment supplied and installed by the best electricians.
Christmas Safety Checklist
When installing lights outdoors, only use lights designed for exterior use. Generally these types will have a transformer, thus providing better protection.
Use extra low voltage lights – look for lights with a transformer.
Always turn off outdoor Christmas lights during rain or storms.
Ensure your outdoor connections are weatherproofed.
Check for an Australian approval number when purchasing lights so you know you're getting the very best products.
Do not piggyback double adapters or power boards. Your safety switches won't be able to handle such activity.
Always keep clear of power lines, swimming pools, driveways, and walkways.
Secure outdoor lights to fixtures and keep out of reach of children.
Follow the instructions and recommendations of the manufacturer. The instructions are designed specifically with your protection in mind.
If you have any questions about safety switches, residual current devices or how we can help you with safety maintenance procedures for your home or business call Wired by Wyatt today on 0402 703 144.